In recent past, there is a lot of discussion around margin pressure on generic business due to increasing competition, reduced number of blockbuster molecules nearing expiry, pricing regulation, FDA inspection and so on. Increased GDUFA fees has affected margin and in turn has restricted competition.
While I agree to above findings to some extent specifically for big generic companies, there are increasing number of small players with proven growth story because margins still outweighs their current scale. Also, one has to realize that many of the generic products are revolutionary therapy in their segment and will continue to remain high volume, low margin commodity business. For them innovation needed is to reduce cost of manufacturing.
Due to multiple factors discussed above, big and established generic pharma face increased pressure about margins compare to smaller, rising pharma. Solution to it for all such big pharma lies within their quarterly results. Recently, a big pharmaceutical company reported its quarterly results with segment wise gross profits margins as below.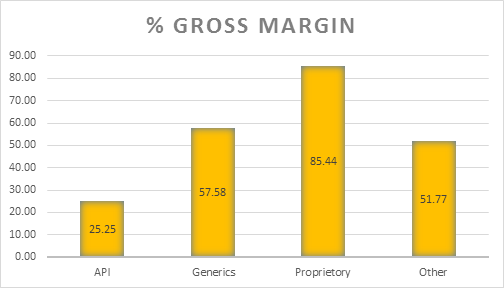 Data shows that generic medicine still offers decent margins, but these are expected to reduce in coming years due reasons shared earlier. Proprietary product delivers highest margin among all class and increased share of proprietary medicine among total segments makes lot of difference.
Proprietary products are mostly innovative new products covered by one or more patents. Patents are the exclusive rights to exclude other from making, using, selling, importing patented invention in respective jurisdiction. All major countries are the part of international treaty PCT(Patent co-operation treaty) due to which priority of invention filed in one country is recognized by other member states without prejudice to the nationality of applicant, provided timely procedure is followed. In brief, patent grants monopoly and thereby adds products with higher margins. Patents are intangible rights which can be bought, sold, licensed and so on. Patents driven businesses are highly likely to receive higher valuation and therefore increased interest from investment community.
Most often argument against allocating budget for Innovation is uncertainty of outcome. While this is true, it is also true that exponential growth stories has come out from ones who successfully managed uncertainty of outcome.
To my experience, one of the major reasons behind failure of companies to manage uncertainty of outcome is their inability to understand that innovation is highly structured process. Innovation program at any organization involves systematic process considering individual internal and external factors. While nurturing innovation, monitoring of each stage is impossible, however, risk minimum can be done with good macro planning at periodic intervals.
Another positive side for big pharma is their big turn over and therefore profit numbers, which in turn avails them higher budget for innovation.
Small and mid-sized pharma companies with excellent growth stories on other hand will have to proactively anticipate challenges and set revenue goals as margins saturation is imminent at certain growth stage. For passionate entrepreneur, higher margin of proprietary product will be driver compare to anticipated saturation. While 10% profit is my standard suggestion, it may vary based on entrepreneurs risk appetite. Another development for recent past is the availability of capital for right and structured business.
To summarize, while generic business will continue to remain high volume low margin business, organization irrespective of their scale will have to accept that high margin growth will only come from proprietary products. While innovation always comes with uncertainty of outcome, systemic approach considering various internal and external factors can increase likelihood of achieved set goals.
– Kushal Vyas
Mr. Kushal Vyas is Managing partner at Factsdrive Innovation LLP. He is a registered patent agent in India. His key practice area is in pharmaceuticals, biotech and chemicals. He has managed innovation, patenting and product portfolio management assignments over past 11 years across all types of products for global markets.